Learn more about these common pests by clicking on the tabs below.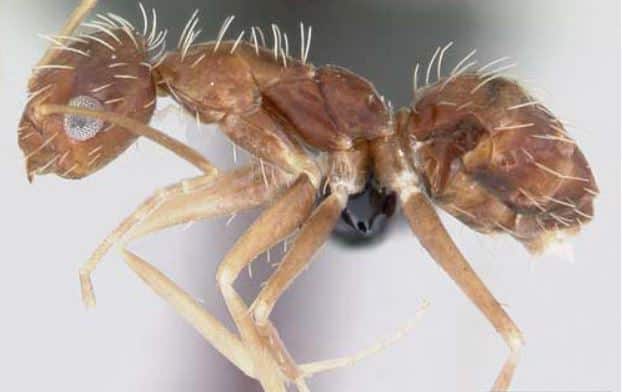 Identification
Crazy ants are typically reddish brown in color and are approximately 1/8 of an inch in length. They have tiny hairs on their bodies.  Known for their erratic behavior when foraging, these pests look like they're running all over.
Food Source
Crazy ant workers are omnivorous, feeding on both dead and live insects; honeydew produced from insects, fruits, plant secretions, seeds, and a variety of household food items such as sweets, meats, grease, and liquids.

Habitat
Crazy ants will typically build their nests outdoors and will travel into homes and buildings foraging for food. However, they have been known to build their nests inside walls and even inside electrical equipment like air conditioning units. They will nest in both dry and moist areas; outside they can be found nesting in the soil, in tree cavities, under rocks, under rotten wood, and under buildings. Crazy ants don't like and can't survive in cold weather; they will move inside from the outside to infest homes and other structures when the weather becomes too cool for them.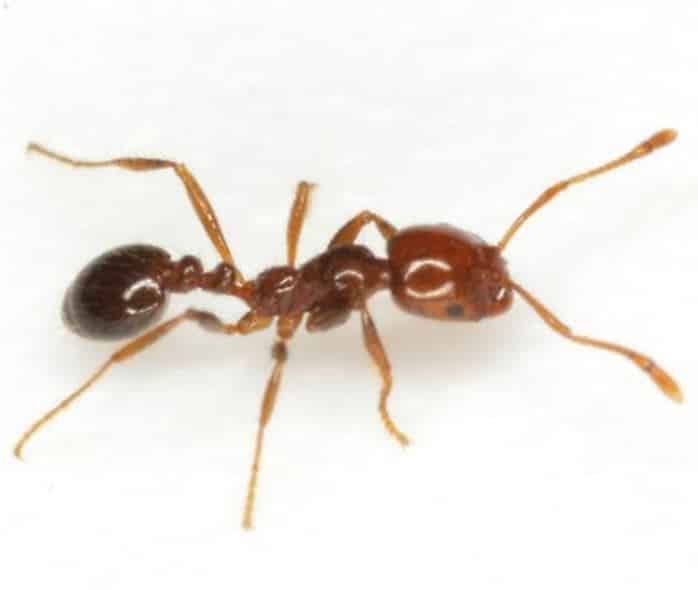 Identification
Fire ants can be identified by their dull red body coloration, which ranges from reddish brown to reddish black. Fire ants also have a stinger.
Food Source
Fire ants are omnivores, meaning they will feed on animal or vegetable sources of food. Known to eat meats, greasy and sweet materials; a fire ant worker's diet includes insects, earthworms, ticks, spiders, arthropod eggs, honeydew and other sweets.
Habitat
Outdoors, they are found in soil under leaf piles, rocks, decorative borders, garbage cans, or any other safe location they can hide beneath. Inside, they frequent areas with higher moisture like water heaters or pipes. Their ability to feed on various types of food means they are all to often found in our homes contaminating stored products in the pantry.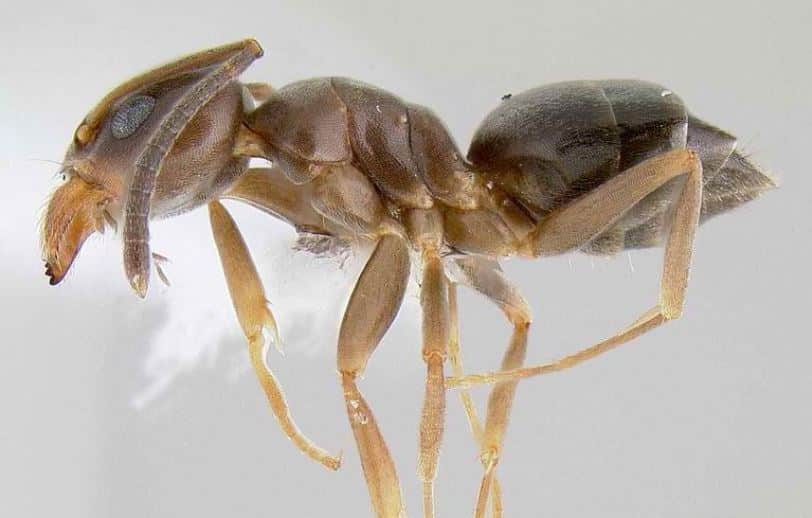 Identification
Uniform in color from brown to black, antenna is segmented without a club, thorax is uneven, and the abdomen has one node connecting it to the thorax.  Another easy way to identify this ant is by their distinct smell of rotten coconuts when crushed.
Food Source
Outside, odorous house ants feed on honeydew excreted by aphids and on nectar from flowers and buds. Inside they feed on many different items including most items found in homes but prefer to fee on this high in sugars.
Habitat
Outdoors, they are found in soil under leaf piles, rocks, decorative borders, garbage cans, or any other safe location they can hide beneath. Inside, they frequent areas with higher moisture like water heaters or pipes. Their ability to feed on various types of food means they are all to often found in our homes contaminating stored products in the pantry.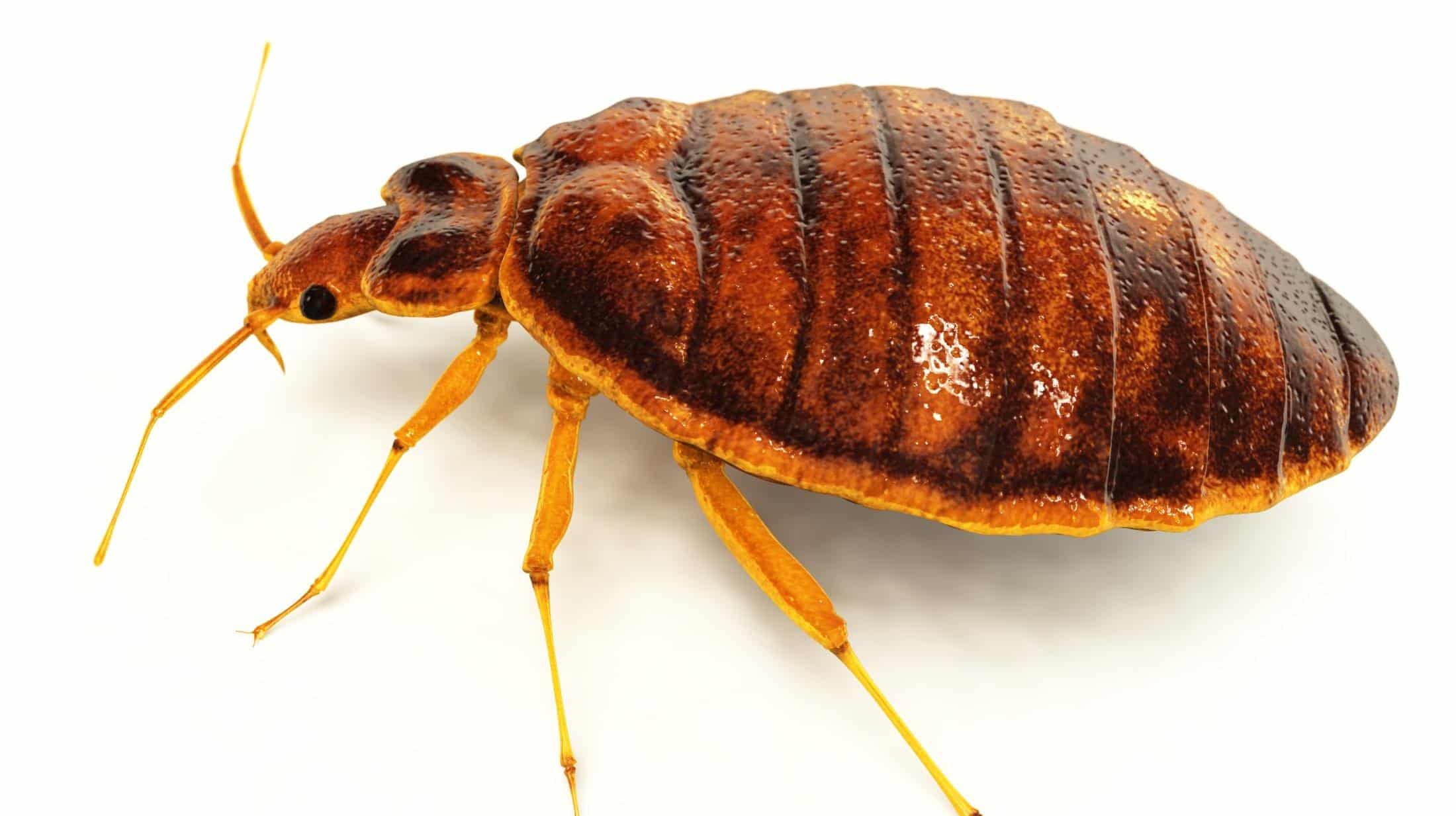 Identification
Adult bed bugs are about 3/16-inch long and reddish-brown, with oval, flattened bodies. Their coloration is similar to an apple seed although their size is closer to a lentil. The bugs are sometimes mistaken for ticks, cockroaches, carpet beetles or other household insects. Immature bed bugs (nymphs) resemble the adults, but are smaller and lighter in color. Bed bugs don't fly, or jump like fleas, but can crawl rapidly over floors, walls, ceilings and other surfaces.
Food Source
Bed Bugs feed solely on the blood of animals. Although the common bed bug prefers feeding on humans, it will also bite other warm-blooded animals, including dogs, cats, birds and rodents.
Habitat
Bed bugs can live in almost any crevice or protected location. The most common place to find them is beds or areas where people rest or sleep. This is especially true during the early stages of an infestation. As numbers grow larger, the bugs tend to move beyond beds into other locations, making control more difficult.
Brown Marmorated Stink Bug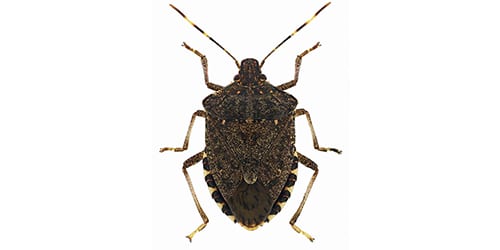 Identification
Adult Stink Bugs vary in color from gray to brown, yellow, green, red, orange, black, or a patterned mix of several of these colors. Generally, Stink Bugs are triangular or shield-shaped. They have a piercing/sucking (straw like) mouthpart tucked underneath their body.
Food Source
Most Stink Bugs are plant feeders, but there are a few species that can be predators of insects. The brown marmorated stink bug feeds most commonly on the fruiting parts of plants, but it can also feed on leaves, stems, and even pierce through some tree bark to feed.
Habitat
Stink Bugs have a large variety of host plants, but has a preference for crop plants and certain ornamental plants. Several ornamental and landscape plants are also used by the brown marmorated stink bug, including princess tree (Paulownia), maple and ash.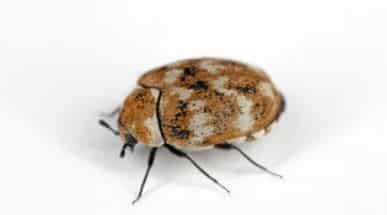 Identification
Carpet Beetle adults have small scales that vary in color from yellow to orange or tannish brown accompanied by black and white patterns/spots. They are not very large. These beetles are best identified by the types of materials they are congregating near or areas where you are frequently seeing them.
Food Source
The larval stages (juveniles) feed on dried animal (fur, leather, feathers, etc.) or stored product (seeds, fishmeal, etc.) material. Adults feed primarily on pollen or nectar of plants.
Habitat
Carpet Beetles live in or on flowering plants outdoors. Inside the home, they are pests of dried plant, animal, and insect material. If you have insects dead in the windows or around the home, the carpet beetle populations can be rather large.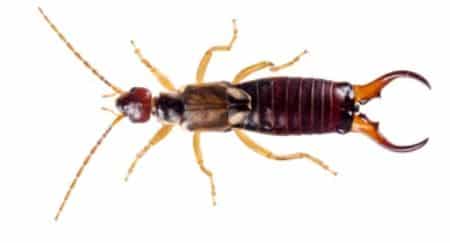 Identification
Adult Earwigs vary in color from tan to tannish brown, dark brown, or black. These insects are best identified by the pinchers they possess on the back side of their abdomen. Most earwigs appear to be wingless, but they actually possess short, visible, leathery wings as adults. Males have very curved, sickle-shaped pinchers and females' pinchers are straight.
Food Source
Earwigs feed on different plant or animal material that can be found outdoors. The most common component of their diet is insects, particularly subterranean insects. The can feed on different fruits, veggies, and seedlings, but their appetite for insects typically outweighs their desire for these other forms of food.
Habitat
Earwigs most commonly live outdoors. They live in areas like mulch, pine straw, and other locations high in moisture. They can venture inside in search of food or water and may be an indicator of some sort of moisture issue indoors.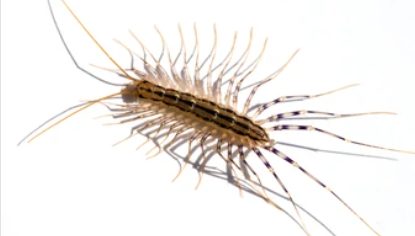 Identification
House centipedes have long, flattened bodies, which can measure as long as 1-1/2 inches long. The body is a yellowish-brown with three dark stripes running along the top of the body with lighter shading between them. The arthropods have 15 segments, and each features one pair of legs. The centipede's legs are long, slender, and thread-like, and have black and white banding. On females, the last pair of legs is more than twice as long as the body.
Food Source
House centipedes eat common household arthropods and insects such as ants, bed bugs, cockroaches, silverfish, spiders, and termites.
Habitat
Outdoors, these house centipedes are commonly seen in and under rocks, stacks of firewood, leaf litter, and tree bark. Once inside a home they are usually found in damp secluded areas such as: basements, bathrooms, crawl spaces, garage, and kitchens.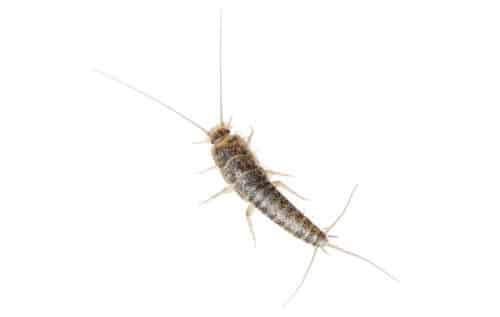 Identification
Adult Silverfish vary in color from silver to dark gray with shiny scales, and most firebrats vary from yellow to tan with patterns of tan, brown, or black. These insects are best identified by the long projections (cerci). They possess them the back side of their abdomen.  They possess a wingless, flattened body resembling a droplet of water.
Food Source
Silverfish and firebrats feed on starchy material: paper products, the glue on books, wallpaper glue, starchy foods, etc.
Habitat
Silverfish are commonly found indoors; they love areas with high moisture. Bathrooms and kitchens are two common areas where they reside. Firebrats usually like warmer, damp locations, like basements, typically near water heaters, pipe insulation, or furnaces. Both of these species can also be found outdoors in damp locations: under bark, mulch, leaf litter, rocks, etc. Libraries are also at a greater risk of having these insects due to all the available food sources.
More information coming soon.
More information coming soon.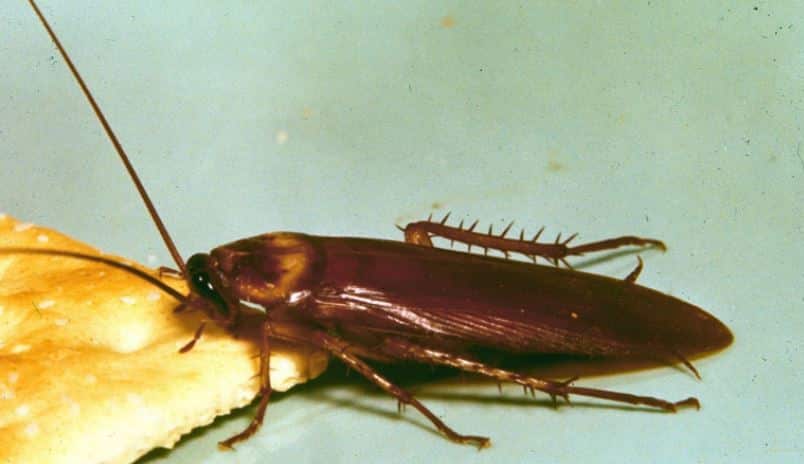 Identification
Reddish brown to dark brown in coloration, they have a pale yellow band in the area behind their head. Adult male and female roaches are capable of flight.  Juveniles are similar in color to the adults but lack the ability to fly due not being fully developed.
Food Source
Omnivorous (will eat both plant and animal matter) and opportunistic, American roaches consume organic matter but are scavengers and will eat almost anything.  Although they prefer sweets, they have been seen eating papers, boots, hair, bread, fruit, book bindings, and various other things.

Habitat
Primarily found outside in trees and woods around homes, they have been known to live in sewers and storm drains.  American cockroaches are found in moist shady areas and are occasionally found under roof shingles and in attics.  They will wander indoors to search for food and water or to avoid extreme weather conditions.  They make their way into houses and apartments from sewers via the plumbing, and from trees and shrubs located alongside builders or with branches overhanging roofs.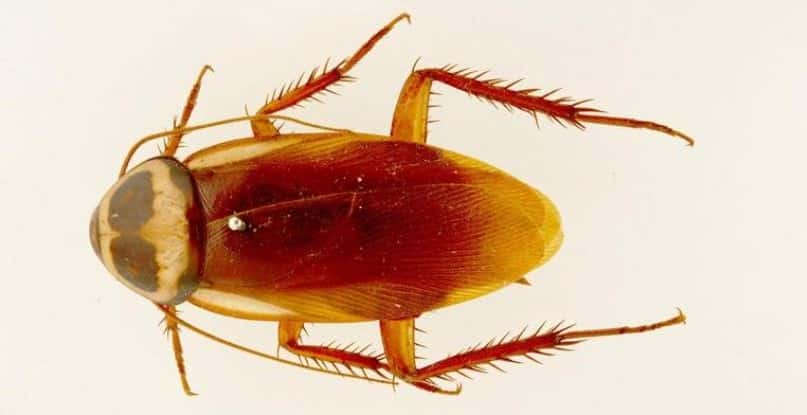 Identification
Resembling the American cockroach, this species can be distinguished by the presence of light yellow bands on either side of the wings.  They are red-brown to dark black to black in color with a dark yellow circle on the area directly behind their head.

Food Source
Australian cockroaches' preferred diet are the tender parts of plants and starchy materials.
Habitat
Australian cockroaches invade the homes of the Southern United States just as frequently and aggressively as any other tropical or subtropical area. They love heat and humidity. Favorite spots around the house include heated fish tanks, greenhouses (which is why it's also called the greenhouse cockroach) and other areas that are hot, humid and moist. Attics and crawl spaces with Australian cockroach populations are almost always associated with chronic infestations. From these areas, the roaches will regularly invade your home. It's important to pay particular attention to these areas with this roach.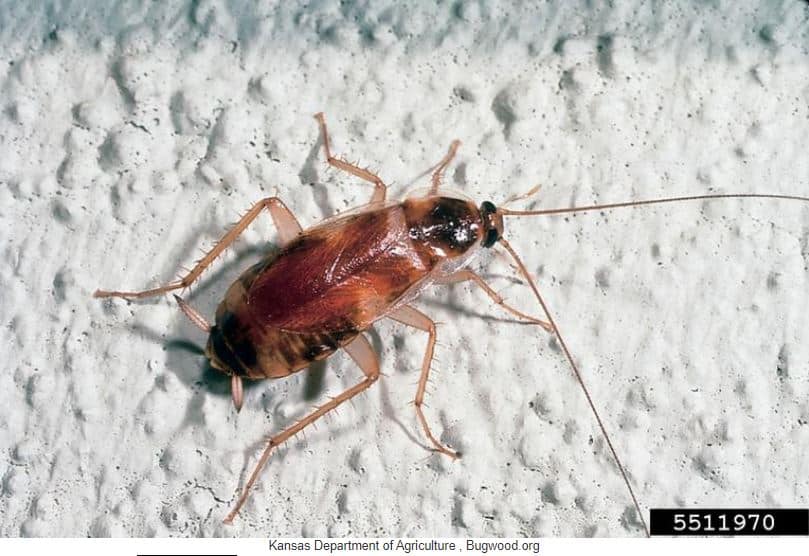 Identification
Light to medium brown, adults and juveniles can be distinguished by two brownish, broad bands across the body at the base of the abdomen and mid-abdomen. Males have wings that are the full length of the abdomen giving them the ability to fly in contrast to females, whose wings are shorter and cannot fly.
Food Source
Living exclusively indoors, the brown-banded roach is a domesticated roach that will eat almost anything.  They will eat cellulose material (including wallpaper and its glue), curtains, nylon, crumbs, and garbage.
Habitat

Preferring warm and dry locations, such as the upper walls of cabinets, near motor housings for appliances, and inside pantries, closets, and pretty much any furniture.  It is common to find them hiding nearer the ceiling than the floor and away from water sources. These roaches commonly make their way into the home by bringing in old furniture, boxes, appliances, or hiding among fresh fruits and veggies.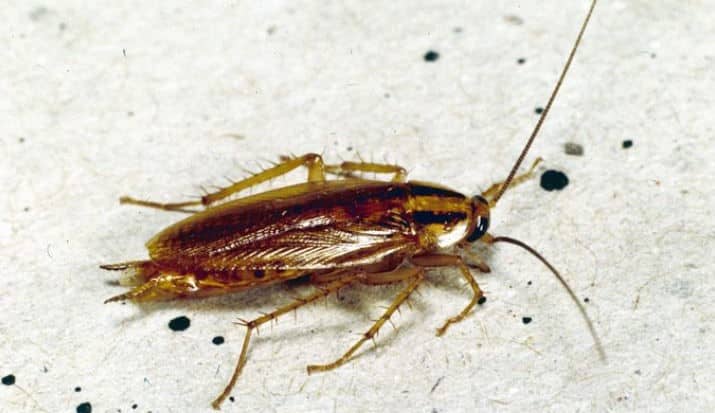 Identification
German roaches are best identified by their small size and the two dark parallel lines running from the back of the head to the wings.  These are flightless cockroaches even though they have fully developed wings.
Food Source
German roaches are scavengers that will eat just about anything.  This makes garbage a primary source of food.  They prefer sweets, grease, starches, and meat. But if food becomes scarce, they can eat soap, the glue from books, toothpaste, scum left on dishes/stoves/in sinks, and more.
Habitat
They are found in areas where there is moisture and a relatively high degree of warmth. Common places they reside are near dishwashers, stoves, kitchen sinks, and bathrooms. They are nocturnal and can be seen moving around infested areas at night.  If you see roaches that scatter when opening a drawer or cutting on the light in a room, you more than likely have a German roach infestation.

German roaches are considered hitchhikers, for the way they infest homes.  They are often introduced into the home by harboring in old appliances or furniture bought from yard sales or pawn shops.  They can also come in shipping boxes, fruit from a farmers' market, visiting relatives and friends, and more.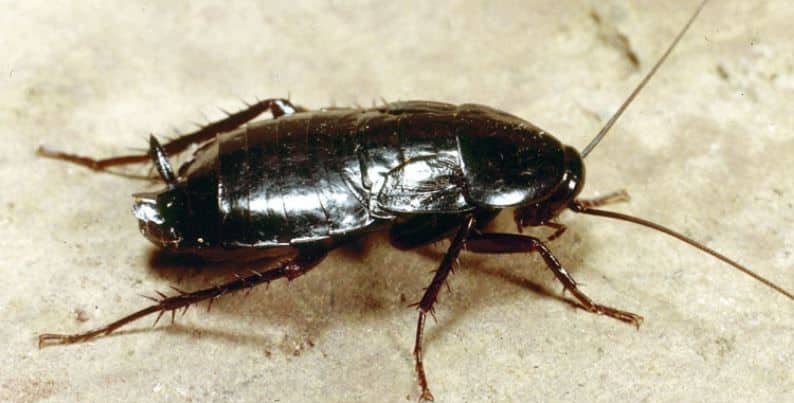 Identification
Dark brown to jet black in their color, these roaches are flightless even with the presence of wings.
Food Source
Found feeding on sewage, garbage, decaying organic matter, and many other food sources. Inside the home, they are attracted to garbage, empty food containers, and any other filth found around the home. Water is a key component in their survival, as it is commonly found in sewers and structures with high moisture.
Habitat
 Oriental roaches are common outdoors and like to live in warm, damp, shady areas near the ground or any area containing natural debris. When found indoors, it is because they are seeking refuge due to a drop in temperature, yet they are still quite tolerable of cooler weather. Inside structures, they are commonly found in cool damp areas such as the crawl space, basement, floor drains, and under sinks. They usually find their way inside by traveling on plumbing pipes.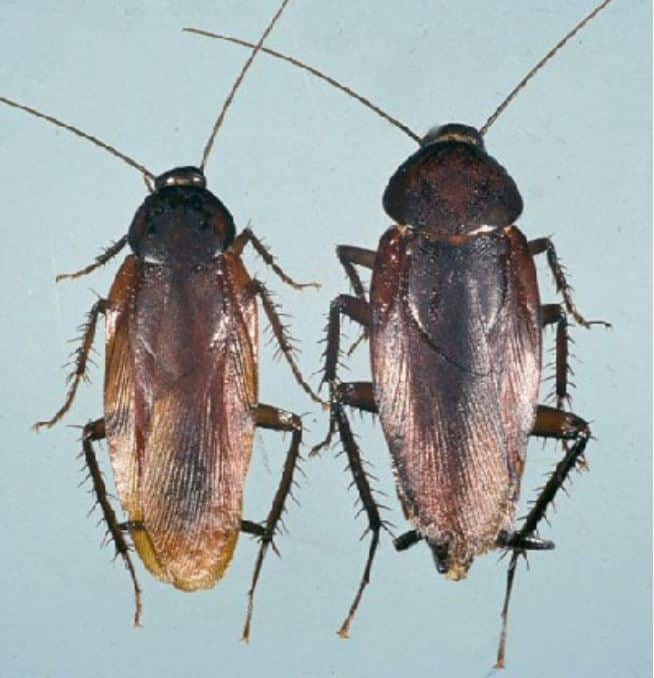 Identification
Dark Brown or black in coloration with a dark shiny area directly behind their head.  Juvenile roaches have a color similar to the adults later in life but will have a white band on their back and tips of their antenna when they are in their initial juvenile stages.
Food Source
 They generally feed on plant material but can feed on any organic debris once inside the home.
Habitat
Found in moisture-prone areas, they avoid areas that could dry them out as they dry up rapidly and require a constant source of water.  Found outside in in mulch, woodpiles, leaf litter, tree bark.  Inside they are often found dead due to dehydration, but will find harborage in attics, crawl spaces, greenhouses, and block walls. They can enter around doors and windows, through ventilation areas, or through any other small crack and crevice that lead inside. These roaches fly at night towards lights.  They fly from trees into your home, being attracted to any pet food or trash left out.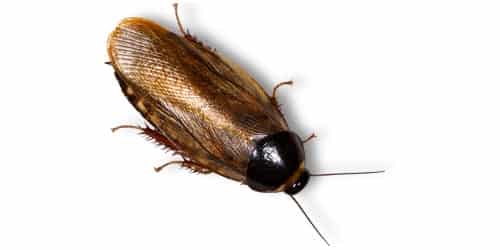 Identification
Surinam cockroaches are about one inch in length. They are dark black or brown with olive-green or dark brown wings. These cockroaches are small and stout with a shiny, shield-shaped head.
Food Source
These pests burrow into the ground and feed on plant stems and roots.
Habitat
 The Surinam cockroach is a burrowing cockroach, commonly burrowing in loose soil, humus, mold, compost piles and lawn thatch, or hiding beneath rocks, rotten branches, trash and other debris. It is considered peridomestic, found living only near human constructions or crops. It has a relatively high rate of cutaneous water loss compared to non-burrowing species of cockroaches, and is nearly exclusively associated with moist soil across its range.
More information coming soon.
More information coming soon.
More information coming soon.
Formosan Subterranean Termite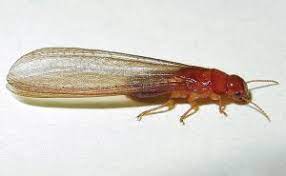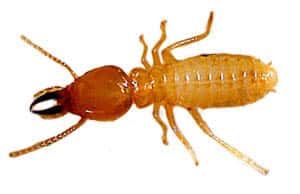 Identification
Adult, reproductive Formosan Subterranean Termites are brown to tan or yellow-brown in color. They have two pairs of equal length wings, a thick, broad body, and straight, beaded-looking antenna. You may find the adults without wings if they have detached them.
Food Source
Termites eat cellulose material. They have a unique behavior called trophallaxis. Trophallaxis means the colony is essentially one giant 'communal stomach' where food is shared between members and given to the queen. This is how our bait-based products work and why the correct application by a trained professional is so important.
Habitat
As the name 'subterranean' implies, these termites live under the soil. They can move into wooden structures or other cellulosic (wood based) material (fallen logs, stumps, etc.) and become pests. Mud tubes (shelter tubes) may be observed going from the soil to whatever source the termites are using for food.